Kuya Bong's Kusina
Fruit Cocktail Float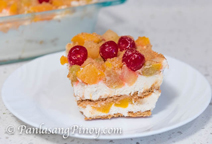 Fruit Cocktail Float is a quick and easy dessert dish that you can whip-up anytime. It does not involve baking and it is so easy to make. I recommend this dish for beginners because of its simplicity. You should be able to make this dish without any issues as long as you follow our step by step recipe.
Ingredients
16 oz. (473 ml) cold heavy whipping cream
7.6 oz. (225 ml) table cream or all purpose cream
2 (15.25 oz.) cans of fruit cocktail
9 tablespoons condensed milk
12 pieces Graham crackers
8 to 10 pieces Maraschino cherries
3 tablespoons crushed Graham
Instructions
Drain the fruit cocktail by pouring each can in a strainer. Set aside.
Prepare the whipping cream mixture by pouring the heavy whipping cream in a mixing bowl. Whisk in medium speed using an electric mixer. Set to high speed after 2 minutes and continue to whisk until soft peaks form (around 5 more minutes).
Stir-in the table cream, condensed milk, and vanilla extract. Continue to whisk for 1 to 2 minutes.
Arrange a layer of Graham crackers at the bottom of a wide 8×8 baking pan.
Pour-in half of the whipping cream mixture. Spread.
Create another layer by adding half of the fruit cocktail. Spread.
Make another layer of Graham crackers. Top with the remaining heavy cream mixture.
Arrange the remaining fruit cocktail on top and add some cherries.
Sprinkle the crushed Graham on top.
Refrigerate for 3 to 5 hours. Serve.
Share and enjoy!
Yema Ball Recipe
Yema is a type of custard candy made from egg yolks and condensed milk. This is a common Filipino dessert and one of the easiest to make. The ingredients needed are readily available and this does not require a lot of cooking and preparation time. Yema Balls are ball-shaped yema that are perfect for dessert.
Ingredients
3 tbsp unsalted butter
1 can (14 ounces) condensed milk
3 egg yolks
3 tbsp peanuts, chopped
Instructions
Place the butter in a heated saucepan and allow to melt
Stir-in the condensed milk and allow to cook for 3 minutes
Add the egg yolks then continue stirring for 2 minutes
Set the heat to medium and put-in the chopped peanuts then stir until the mixture becomes thick (about 15 to 20 minutes). Adjust heat to low when texture is about to be achieved.
Turn-off the heat and allow the mixture to cool down
When the temperature of the mixture is tolerable, scoop a spoonful then roll with your hands to form a sphere (ball shape).
Transfer to a serving dish and apply your desired presentation
Serve. Share and Enjoy!
Leche Flan Recipe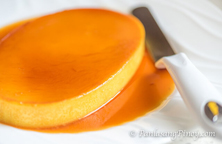 Leche Flan (also known as crème carameland caramel custard) is a dessert made-up of eggs and milk with a soft caramel on top. This dessert is known throughout the world (especially in Europe) and has been in the dessert menu of most restaurants because of its convenience in preparation and long shelf life.
Ingredients
10 pieces raw eggs
1 small can condensed milk
1 cup fresh milk (or evaporated milk)
1 cup granulated sugar
1 tsp vanilla extract
Instructions
Using all the eggs, separate the yolk from the egg white (only egg yolks will be used).
Place the egg yolks in a big bowl then beat them using a fork or an egg beater
Add the condensed milk and mix thoroughly
Pour-in the fresh milk and Vanilla. Mix well
Put the mold (llanera) on top of the stove and heat using low fire
Put-in the granulated sugar on the mold and mix thoroughly until the solid sugar turns into liquid (caramel) having a light brown color. Note: Sometimes it is hard to find a Llanera (Traditional flan mold) depending on your location. I find it more convenient to use individual Round Pans in making leche flan.
Spread the caramel (liquid sugar) evenly on the flat side of the mold
Wait for 5 minutes then pour the egg yolk and milk mixture on the mold
Cover the top of the mold using an Aluminum foil
Steam the mold with egg and milk mixture for 30 to 35 minutes.
After steaming, let the temperature cool down then refrigerate
Serve for dessert. Share and Enjoy!