The Unmarried Wife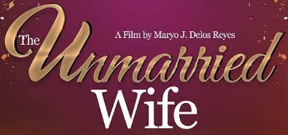 Movie Review by: C.K.
Infidelity, one of the main reasons why couples go separate ways.  But does a marriage really have to come to an end when infidelity happens?  Or should you be willing to give your partner another chance?  How broken are you when you learn that your partner cheated on  you?  Let's try to check on one of the blockbuster movie, THE UNMARRIED WIFE.
After their beautiful wedding, Anne (Angelica Panganiban) and Geoff (Dingdong Dantes) are the picture of a happy couple in a loving and committed relationship … until everything begins to crumble.  What made things crumble into pieces?  Let's find out.
Anne's  idealism is put to a test when she finds out that Geoff has been cheating on her. But she chooses to turn a blind eye in the beginning, not wanting to compromise her reputation, work and family.  But what happens if after you find out the first time about your husband cheating and you forgive just to find out again that he has never stopped cheating on you?  I  guess this is where you have to set the boundaries.
Anne's situation gets more complicated as she gets drowned by the  demands from the workplace made even worse when she begins to entertain the romantic advances of Bryan (Paulo Avelino), who unbeknownst to her has domestic issues as well.  This will definitely be a lesson to all wives out there who are going thru infidelity issues with their husband.  Before you get into another relationship with anyone, you have to know the background of that person so you will not be caught unaware just like in Anne's situtation. In this case, she ended up as the mistress to Bryan since Bryan's annulment with his wife has not been processed since the wife doesn't want to let go of Bryan.  It came to a point where Bryan's wife was going to sue them in court.  Luckily, Anne was able to talk with Bryan's wife begging to stopped whatever she's capable of doing for the sake of her son who is deeply affected of what was happening.Thus Bryan's wife dropped the lawsuit because of that.
To be fair, Angelica did well, a testament to her multiple awards and citations from her earlier movies, notably – Santa Santita,  One More Try and That Thing Called Tadhana, among others.  However, " The Unmarried Wife " falls short in some aspects.
The movie is quite ong – all of two hours and ten minutes, often on redundant and lengthy dialogs.  In time,  you just get bored and tired hearing the word  "sorry" uttered so many times within minutes apart.
It is dragging at times, more so when you expect much from Dingdong's performance. Similarly,  Paulo isn't any different either. His attack on his character as Anne's obsessive lover borders on one that has a mental problem, his eyes and moves say it all. However, Denise Laurel and Maricar Reyes' performances, albeit in cameo roles, impacted more.
The matter of marital infidelity and betrayal is serious business. It's easy to think you will step out of the door once your spouse cheats on you, but when confronted with the reality of divorce or dissolving your marriage, the stakes are really high. More often than not, it's always the woman who's getting blamed everytime there's a separation between husband and wife in our double standard culture.
Overcoming the devastation of betrayal is never easy, it isn't. But it can be worked on. In fact, many a couple have decided to stay married after surviving the many storms in their marriage.  There's also a saying the it takes two to tango.  So if a couple really want their marriage to work out, both of them should try hard and not just the other.  Sometimes, we don't have to think of ourselves alone but the children's welfare is more at stake when a family breaks apart.