Art in Island: One of a Kind Trick Art Museum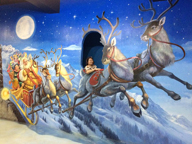 by C.K.
I once saw on one of the po
st of my former student on fb about this museum.  I was amazed with how the pictures looks so real.  I asked her where this place was and she said it's in Quezon City and it's called Art in Island.  So I told myself that if ever I will go back to visit my home country, I will never miss to visit this newest place for art.
The biggest trick art museum in Asia, Art in Island, opens on Christmas Day in Cubao, Quezon City! This museum can be compared with the Trick Art Museum in Jeju Island, South Korea is currently the largest with a floor area at 4,100 sq m,. But in terms of the total painted area,  Art in Island, this newest attraction in Cubao is now the largest 3D interactive art museum in Asia. It took me at least least two to three hours to enjoy all the themed galleries.
Also known as "optical art" or "3D art", "trick art" are mostly two-dimensional images that give the illusion of the third dimension: depth. Art in Island has over 50 trick art murals painted by a team of 18 Korean master painters who were specially flown in for the project. Funny caricature sculptures of the artists are displayed at the lobby before you enter the galleries. Since shoes are not allowed inside the galleries to preserve the painted areas on the floor, comfortable bedroom slippers are for sale to visitors.
People responsible for having the very first kind of this museum in Manila is none other than Korean CEO Yun Jae Kyoung and marketing officer Margarette Mamauag. The comical and surreal works of art, which were conceptualized and designed by a team of Korean and Filipino designers. There are also optical illusion set-ups that will trick your perceptions and help you create unbelievable photos. I would really recommend that you add this in your itinerary when you visit Manila to see for yourself the element of surprise.
The Korean-owned museum has definitely added a fun and colorful dimension to an otherwise drab street off Aurora Boulevard. Considering the Filipino penchant for taking "selfies" and snapping pictures in general, Art in Island will surely be a hit with family and barkadas.
You will find the museum at 175 15th Avenue, Barangay Socorro, Cubao, Quezon and they are open from  9:30 AM to 9:30 PM . Entrance fees are PHP 500 for adults and PHP 400 for students.