Kuya Bong's Kusina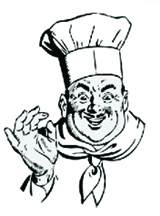 Seafood Bicol Express
Seafood Bicol Express is a dish composed of fresh shrimp, squid, and mussels. These are cooked in coconut milk along with sautéed garlic, ginger, and onion. The addition of lots of chili peppers and shrimp paste made this dish extra spicy, tasty, and special.
Ingredients
1 lb. mussels, cleaned
6 ounces medium sized squid, cleaned
½ lb. shrimp shell and head on
2 cups coconut milk
2 tablespoons shrimp paste (bagoong alamang)
2 thumbs ginger, minced
3 cloves minced garlic
1 medium yellow onion, chopped
6 to 10 pieces Thai chili pepper
¼ teaspoon ground black pepper
3 tablespoons cooking oil
Instructions
Heat oil in a cooking pot.
Once the gets hot, saute garlic, onion and ginger.
Pour the coconut milk into the pot. Let boil.
Add chili pepper and shrimp paste. Stir. Cover and cook for 3 minutes.
Add the squid, mussels, and shrimp.Stir until all the seafood gets coated with coconut milk. Continue to cook for 3 to 5 minutes while occasionally stirring.
Add ground black pepper. Stir.
Transfer to a serving plate. Serve.
Share and enjoy!
Relyenong Tahong (Stuffed Mussels)
Relyenong Tahong or Stuffed Mussels make a great appetizer.  Instead of frying, we will bake these stuffed mussels. It saves us some cooking oil and some clean-up time too. It also helps melt all the fat from the pork and bacon, which is better. I enjoyed this dish with warm steamed rice and banana ketchup – this is how I usually eat this type of dishes even when I was a kid.
Ingredients
1 lb. ground pork
16 to 20 pieces mussels, cleaned and other shell removed
½ teaspoon onion powder
1 teaspoon garlic powder
6 strips bacon, chopped
2 tablespoons chopped parsley
½ cup shredded sharp cheddar cheese
1 egg
½ teaspoon salt
1 /4 teaspoon ground black pepper
Instructions
In a mixing bowl, combine all the ingredients. Mix well until everything is blended.
Scoop around 1 to 1½ tablespoons of mixture and stuff it into the mussels. Do this step until all the mussels have stuffings.
Arrange the stuffed mussels on a baking tray.
Preheat oven to 370F.
Place the tray with stuffed mussels in the oven. Bake for 30 to 40 minutes.
Remove from the oven and arrange in a serving plate.
Serve with banana ketchup.
Share and enjoy!
Tinolang Tahong Recipe
Tinolang Tahong is a mussel soup recipe with ginger and spinach. This recipe is inspired by a famous Filipino soup dish called tinolang manok or chicken tinola — which uses chicken, green papaya wedges, and chili pepper leaves. This mussel soup recipe is simple, budget-friendly, and delicious. This is also quick to prepare.
Ingredients
1 lb. mussels (tahong), cleaned
2 cups spinach
2 tablespoons ginger, julienned
1 medium yellow onion, sliced
5 cloves garlic, pounded
1½ teaspoons salt
½ teaspoon ground black pepper
3 cups water
2 tablespoons cooking oil
Instructions
Heat a cooking pot and pour-in cooking oil.
Saute garlic and onion.
Add ginger and mussels, and then cook for a minute.
Pour-in water. let boil.
Add salt and pepper. Stir and cook for 8 to 10 minutes.
Put-in the spinach. Turn the heat off and cover the pot.
Allow the residual heat to cook the spinach.
Transfer to a serving plate.
Serve. Share and enjoy.
source: panlasangpinoy.com