Star Magic 25 at Queen Elizabeth Theater in Vancouver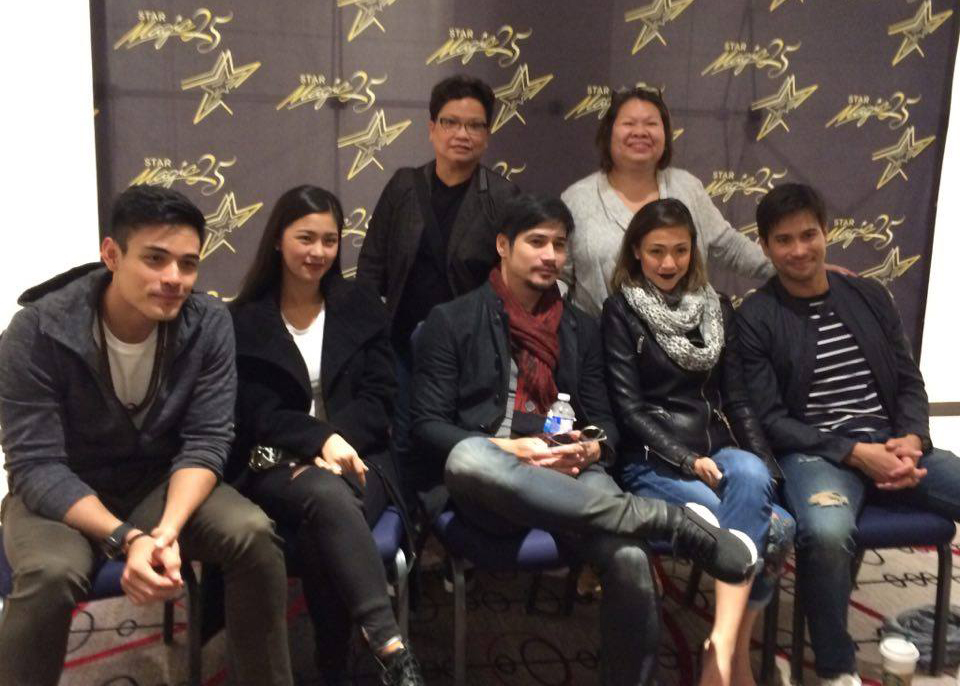 by C. K.
This year, TFC has prepared big shows for Canada to celebrate its 150th year.  And although Calgary was not chosen as one of the cities for these big events, PINOY TIMES decided that we will still be there to cover STAR MAGIC 25 which was held at the Queen Elizabeth Theater on Saturday, April 9, 2017.  As a media partner of TFC, we want to share how excellent and successful any global events that they bring to different parts of the world.
A limited number of new IPTV subscribers where able to have a chance to meet and chat with all the artists included in the entourage namely Darren Espanto, Arci Munoz, Enrique Gil, Liza Soberano, Sam Milby, Jodi Sta. Maria, Piolo Pascual, Kim Chu and Xian Lim which was hosted by none other than Eric Nicolas and Mariton Pacheco. The fans and media were given a chance to say a few words to their favorite artists and had pictures taken as part of their meet and chat opportunity.
The doors off the venue were open to the public at 2 pm and there were lots of sponsors who were giving away some of their novelty items.  There's also a photobooth where you get your picture with the logo of TFC and Star Magic 25 for free. It as definitely a sold out concert and people came from other cities like Winnipeg and Calgary.  Some even came from the US, like people drove from Seattle which is a neighbor to BC.
The show started with an hour of games hosted by Eric Nicolas and prizes were given by sponsors. It made people participate on stage with the different games that they have set up before the show.  Eric Nicolas is an excellent host and game master and full of humor; definitely brought laughter in the house.
The main show started at around 7:30 pm and much excitement can be felt in the theater while everyone was waiting for the cast of STAR MAGIC 25.  The whole entourage came out and did a group number to start the show. I was surprised to see Arci Munoz who's the newest member of Star Magic did some rock songs which really brought out the best of her singing ability.  Darren Espanto definitely has a huge following when he sang a number of teleserye theme songs.  He also promoted about his online concert on Thursday, April 13 just log in to tfc.tv. To change the mood in the crowd, the next to entertain us was none other than the King of the Hill, Enrique Hill, with his amazing dance moods.  He's dance moves is definitely the latest craze not just in the Philippines but also in Canada because he has a huge following.  Liza Soberano on the other hand, sang for the fans and later on was joined by Enrique Gil for a duet.
Philippine Airlines representative Mr. Alan Co came up on stage and  called on participants for the contest of which someone won a roundtrip ticket to New York.  Aside from that, Eric Nicolas also had another contest called Hep, hep, hooray and it was really a fun game and everyone enjoyed it.
The second part of the show started with Xian Lim who showed his versatility by singing and playing the piano at the same time.  He took of his sweater as he wants to go down and be with the fans but the crowd was not disciplined enough so that was cut short for him to meet his fans on the floor.  After his number, he threw his sweater into the crowd and someone as lucky to be the new owner of Xian's sweater.  After Xian, Kim Chu came up on stage and started her portion with a very lively song and even asked the crowd to stand up and dance with her.  After couple of solo numbers, Xian Lim came to join Kim for a duet.  Sam Milby sang and played his  guitar for the audience and Piolo Pascual also joined him for a duet.  Ms. Jodi Sta. Maria also came out sang a novelty song of Sasakyan Kita and was later on joined by Piolo Pascual for a duet.
Overall, the show was very entertaining and there was no dull moments with any of the artists.  This show wouldn't be possible if not for Mr. Ricky Resurreccion who is the global events head for TFC  North America and of course with the team from TFC  Canada, Ms. Rosary Escano and Ms. Ces Babon.  They definitely deliver to the Filipino community all over North America the best of the best!  Congratultions TFC for another job well done!