Kuya Bong's Kusina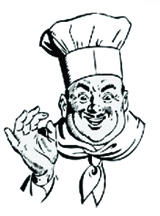 Ginisang Gulay
Ginisang Gulay is a simple sauteed vegetable dish. It is composed of eggplant, squash, okra, amapalaya (bitter gourd), and string beans. The combination of vegetables resembles a Filipino dish called Pinakbet.
Ingredients
1 medium bitter gourd (ampalaya), cored and sliced
6 to 8 pieces okra
1 cup sliced tomatoes
8 pieces string beans sliced in 2 inch pieces
1 medium Chinese eggplant
¾ cups vegetable broth
1 medium yellow onion, sliced
1½ cups cubed calabaza squash
4 cloves garlic, crushed
salt and pepper to taste
3 tablespoons cooking oil
Instructions
Heat oil in a pan.
Saute garlic and onion.
Add the tomato when the onion gets soft. Cook for 2 minutes.
Add the calabaza squash. Stir and cook for another 2 minutes.
Put the eggplant, okra, string beans, and bitter gourd in the pan. Stir fry for 3 minutes.
Pour the vegetable broth. Cover and cook for 5 to 7 minutes.
Remove the cover. Add salt and pepper to taste.
Transfer to a serving plate. Serve and enjoy!
Kalabasa Soup with Ampalaya Leaves
It is the time of year wherein pumpkin gets a lot of attention. This time, we will not make the traditional pumpkin soup. Instead, I will show you how to cook a very simple soup using butternut squash with a Filipino twist — I call this Kalabasa Soup with Ampalaya Leaves.
Ingredients
½ medium butternut squash; peeled, seeds removed, and cubed
3 cups chicken broth
3 cups water
A bunch of Ampalaya (bitter melon) leaves
1 medium yellow onion, sliced
½ teaspoon garlic powder
Salt to taste
Instructions
Combine chicken broth and water in a cooking pot. Bring to a boil.
Add the onion and butternut squash. Boil for 20 minutes.
Put-in the garlic powder. Stir
Put-in the ampalaya leaves. Cook for 5 minutes.
Add salt to taste. Serve.
Share and enjoy!
Cheesy Broccoli Soup
Here is another vegetable soup recipe that you might be interested in. Cheesy Broccoli soup is a thick soup made from chopped broccoli, fresh milk, and grated sharp cheddar cheese.
Ingredients
2 tablespoons butter
¼ cup chopped onion
⅛ teaspoon ground black pepper
2 tablespoons all-purpose flour
2¾ cups milk
¾ cups sharp cheddar cheese, grated
8 ounces broccoli, chopped
Instructions
Heat a cooking pan and put-in the butter. Let the butter melt.
Add-in the onions and cook until it becomes soft.
Put-in the flour and stir while cooking.
Pour-in the milk and let boil. Simmer for 2 minutes in medium heat.
Add the ground black pepper and stir.
Put-in the broccoli then cook for 3 to 5 minutes.
Add the cheese and stir until it melts.
Turn off the heat and transfer to a serving bowl.
Serve hot. Share and enjoy!