Sizzlin Suteki, the latest food craze in town!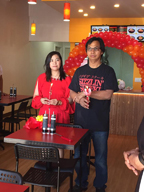 by C.K.
Congratulations to the owners of a brand new Japanese fast food spot Sizzlin' Suteki on their grand opening last May 28, 2017.  After a month of renovations on the former location of Mama Nita's Binalot, a new food craze is now ready to serve everyone in Calgary. It has a brighter space and the open view of the galley kitchen behind the front counter which is nice that it is visible for the patrons to see that their food is done in an orderly manner; not unlike other restaurants where you cannot see what's happening in the kitchen.
Their menu is an assortment of combinations on what you want to eat for a dish. You can order rice with a choice of protein (beef, salmon, shrimp, chicken or tofu) or veggies and bean sprouts with steak, salmon, teriyaki chicken or two burger patties. Prices range from $12.99 to $17.99. There were salad, miso soup, gyoza, karaage, takoyaki and spring roll sides for under $3 each as well.
So for a different food experience come and visit Sizzlin' Suteki at 1919 31 St SE Calgary.  It is not only budget friendly but the food is really something you must give is a try. Watch out for other locations soon to open in Calgary and Edmonton.
Again, big congratulations to the brains behind Sizzlin Suteki especially to Chef Ricky Asuncion and his wife Crystal Asuncion.  Again, nothing beats the one who came up with the very first of it's kind in the food business.