BIG VALLEY – Great Village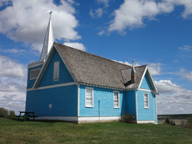 Another exciting month of vacations and day trips is behind us so I'll tell you about our day trip to Big Valley, Alberta. Although we traveled to Edmonton, Great Falls and Drumheller this month, Big Valley was a relaxing, leisurely drive out in the country. As usual, we made frequent stops along the way and after leaving Hwy #2 north of Calgary, we went east on Hwy #590 from Innisfail. We stopped in at Dry Island Buffalo Jump Provincial Park. Beautiful scenic lookouts, including the Badlands, reminded us that Drumheller is an over-used destination. Few people even realize that the awesome Badlands are more spectacular in both Brooks and Dry Island, so I suggest that you try one of the alternatives to Drumheller. You will be surprised I am sure!
Big Valley, a small village of 364 people is the destination for the Alberta Prairie Steam Train, which travels from Stettler to Big Valley. We took that excursion about 20 years ago and highly recommend it. You may have also heard of the Big Valley Jamboree, an outdoor country music festival held nearby in Camrose Alberta every August.
Big Valley has one of the last remaining turntable and roundhouses in Canada, built in 1912. They also have a great railway museum – The Canadian Railway Hall of Fame. We enjoyed our picnic lunch in a cool park setting and on foot, took a stroll throughout the village. Be sure to tour the Jimmy Jock Boardwalk, a small restored town site and leave time to check out the several museums housing vehicles and equipment from the early 1900s. Another beautiful sight is the St. Edmunds Church, built in 1916 and the water tower overlooking Big Valley. Don't miss the Big Valley Jailhouse which was built in 1914 too. Several antique stores also allow you to pick up unique gems at a fraction of the price of the big city.
Rather than returning to Calgary on the congested and dangerous Hwy #2, you can return by going through Drumheller. If you do make sure you stop by the little restored ghost town of Rowley Alberta, population – 10. Several movies have been made there and the town kept the sets and buildings and restored them.
Since my wife and I have been to Drumheller about 30 times it is considered boring to us but since it was a Saturday evening, we went to Dinosaur Downs Raceway there and watched an exciting evening of car racing on the dirt oval track. We then headed home with a beautiful sunset to view along the way.
Although Pinoy Times can only show 5 or 6 photos from this day trip, and we took several hundred, check us out on Facebook for more. Along the way we spotted deer, sheep, cattle, llamas and herds of buffalo and elk. All in all, a full day of sightseeing – made better by pre trip planning and research, and we discovered a few more Alberta gems!
Steve Tarzwell