Filipina medical physicist is new Miss Earth 2017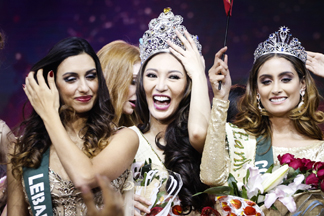 MANILA, Philippines — Filipina earth warrior Karen Ibasco was hailed as this year's Miss Earth after outshining 84 other candidates.
Miss Earth 2016 Katherine Espin of Ecuador passed on the crown to the 26-year-old beauty from Manila during the coronation night held at Mall of Asia Arena Saturday night.
Ibasco showed that she is a combination of beauty, grace and brains when she pointed out during the final question and answer portion that the real enemy of Mother Earth is not climate change, but its inhabitants.
"We have to start changing our ways and recalibrating our lives. Because together, as global community, our micro efforts will have macro effects to help save our world."
Prior to that, Ibasco also noted the importance of biodiversity to the ecosystem during the segment #EarthTalk.
"Biodiversity balances the ecosystem. It's very important to protect them because as we protect them, we protect our environment. We make our Earth a better place to live in," she said.
Ibasco, an evident front runner in the competition, is also one of the award recipients for the Figure and Form, and Intelligence and Environmental Awareness categories.
Even during the preliminary rounds, Ibasco made it clear that she is worthy of the crown after winning three gold and two silver medals.
She got medals for Best in National Costume for Asia Pacific, Darling of the Press, and Group 2 Swimsuit Competition. In addition, she bagged silver medals for Resorts Wear Competition and Long Gown Competition.
The beauty queen is a medical physicist who graduated cum laude both from her bachelor and master's degrees in Applied Physics major in Medical Physics from the University of Santo Tomas.
Ibasco became the fourth Filipina to be crowned as Miss Earth since the pageant began in 2001. She followed the footsteps of Karla Henry (2008), Jamie Herrell (2014) and Angelia Ong (2015).
Apart from the stunning candidates, Grammy-nominated singer-songwriter Shontelle and world-renowned violinist Iskandar Widjaja also hyped the crowd with their remarkable performances.
According to its website, Miss Earth pageant is an international environmental event channeling the pageant industry as an effective tool to promote environmental awareness.