Miss U beauties at home in Philippines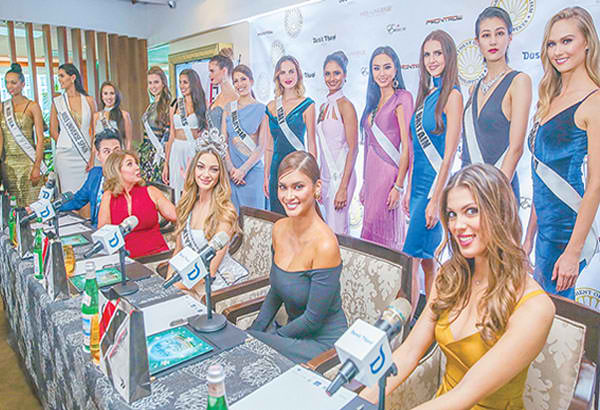 MANILA, Philippines — Several candidates from the most recent Miss Universe pageant are here in the Philippines. Led by the winner, South Africa's Demi-Leigh Nel-Peters, the beauties have been doing charity and tourism-related activities this week.
The trip marks the first official appearance of Demi-Leigh after her win. Joining her and the girls are previous titleholders, Miss Universe 2015 Pia Wurtzbach and Miss Universe 2016 Iris Mittenaere. The country last saw a bevy of Miss U beauties in January when it hosted the pageant for the third time, during which the third Pinay Miss U Pia passed on the crown to the French beauty Iris.
Pinays can learn a lot from the new Miss U. She went into the pageant with an inspiring story of surviving a "traumatizing" situation and turning it into an advocacy against women violence and harassment.
The 22-year-old model (who "narrowly escaped" a hijacking incident a few weeks after she was crowned Miss South Africa) encouraged those who have been victimized to not live in fear by seeking help and therapy, and urged fellow women to be there for each other.
The ladies were flown in by Frontrow, a beauty, health and wellness company, while the Department of Tourism has been bringing them to famous landmarks like Intramuros and Luneta Park, as well as destinations outside Metro Manila. Last Dec. 7, they had a fashion show sponsored by Frontrow to benefit Miss U's charity, Hope for Change (Philippines).
"We had such a great audience and experience here in the Philippines (last January)… I think Iris had a great time here. It's very nice to welcome our contestants here right now," said Miss Universe Organization (MUO) president Paula Shugart in a presscon at Dusit last Wednesday. "This trip came together very quickly and it's very, very exciting for the contestants who were able to make it."
She added that "history has been made" to bring three titleholders together.
Paula credited Frontrow for making the trip happen. "You guys really brought it together," she added, addressing RS Francisco, who apart from being president of Frontrow, is known in showbiz circles as a theater actor and commercial director. "This is a man who says I'm going to do something and the next thing we know, here we are in a presscon."
RS said that by collaborating with Miss U, which has "a louder voice and wider reach," they hope to expand the charity work they've been doing via Frontrow Cares.
Meanwhile, Iris reflected on her reign that was relatively shorter than the others. "I had 10 months (of being Miss Universe). I had a wonderful time with wonderful people. I don't need a full year, I don't need to be Miss Universe to try to make a difference. As (myself), as a former Miss Universe, I'm going to continue to work with Smile Train and a lot of organizations."
Pia, on the other hand, talked about how it was harder to sit as judge in the last Miss U than to be a titleholder. "I could not help but think what the girls were feeling at the moment. I was feeling nervous for them, too. Just to think that the judges' collective decision on who the next Miss Universe was going to be was going to change somebody's life, it was hard, because yes, you do have like one winner who is celebrated, I think we found that in Demi, but then there are also other girls who have the same dream (but) who are gonna go back home not really fulfilling the dream that they want. It was difficult. I was happy to be a judge and choose the next Miss Universe but I also felt for the girls who are not going to make it. My heart was with them."
For Demi, coming from such a diverse country as South Africa has prepared her well for her new role. Plus, she said, "I have two amazing women (Iris and Pia) beside me who have helped me with so many tips and information on how to handle the year (ahead)."