"Kasal" Movie Review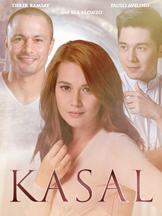 Star Cinema's first salvo for their 25th anniversary, "Kasal" is a story that tackles the complexities of getting married. Bea Alonzo's Lia accepts Philip's (Paulo Avelino) proposal only after a year of dating. Things got complicated when Philip's dark secret starts to spread and affect not only his relationship with his fiancee, but also his chances of winning the Mayoral race in Cebu City. To make matters worse, Derek Ramsay's Wado, who is Lia's ex-fiance joins the mix with the sole purpose of winning her back, operating at the presumption that she's still in love with him.
Directed by Ruel S. Bayani, the mastermind behind 2009's cult classic, "No Other Woman" from 2009, "Kasal" is a new spin to a the generic love triangle that hinges on marriage. For a change, the story doesn't center on the traditional way of cheating, although some might argue that intentionally deceiving a partner is considered the same thing. Having said that, the film loses itself with so many plot details that didn't flow as fluidly as intended. In the end, it's bold attempt at a narrative but ultimately fails in its execution.
The movie's beautifully shot as it took advantage of some of Cebu's prettiest spots – whether it's a man-made structure or its gorgeous natural environment. If anything, the film could've been a tourist campaign video with several locations shoots doubling as the film's background. The problem came in, sadly, with regard to the cast's wardrobe. It's jarring to see Avelino layering a button down and sweater while Lia sported a flowy dresses and tops. It's a small thing, no doubt, but it affects people's viewing experience, especially for those who are particular with these things.
As always, Alonzo shines with her acting. Regardless of what part or who's she's paired with, she's consistently put great performance one project after another. However, while she's effective in her role as Lia in "Kasal," the material didn't give her the opportunity to go beyond the normal trajectories that she's tackled in her previous movies and soap operas. Initially perceived as low-key teacher, it wasn't entirely clear how she suddenly become an integral part of an extensive campaign for Philip. Granted that Lia was his fiancee, it makes little sense that she's at the forefront of everything, to the point that she's spearheading a bridge-building project.
While Alonzo's screen presence saved Lia from being insufferable, it was unfortunately not the case for both Ramsay's Wado and Avelino's Philip. The character build-up for the two just doesn't make sense, resulting to uncompelling key players. For some reason, Avelino just wasn't able to sell the internal struggle of Philip, which was going to be the main hook of the movie. Between the pressure from his family and his identity crisis, not to mention supposedly being a genuinely good person, it would've been easy for audience to root for him. But he came off as nothing but a manipulative guy who was willing to drag someone else to save his face from embarrassment. As for Wado, his cockiness and presumptions made him nothing more but a ruthless prick who would stop at nothing just to win any situation.Towards the end, seeing their secret back-and-forth became tiring and frustrating that you just want Lia to get out of there and live her life without them.
All in all "Kasal" was messy despite Bayani's attempt to establish the film's story with less exposition. It felt like it wanted to do so many things and in return didn't accomplish any of them. The characters continued to do questionable actions all throughout the movie that the ending didn't seem enough of a pay-off for every bad decision they've made. It would've probably been better if the film's narrative was streamlined and focused – preferrably on Philip's storyline that could've become emotionally powerful.
COMMENTARY ON KASAL
After watching the movie, I realized that in life, your secrets will never remain a secret and there will come a time when you have to admit whatever you're hiding from  people.  Especially here around us, there's a lot of "PA-MEN" they show off by dressing up and acting as if they are big shots and  keep up with the macho image, but deep inside they have hidden secrets.  I can name a few but I will not, they know who they are.  Some of them display their wives in events just to get the feel that they are happily married , go to the gym, hang-out with the  "barkada"…….but are they really MEN as in the true meaning of manhood?  You just have to accept who you are because down the road that secret will come into revelation.- yours truly C.K.