PHILIPPINE CULTURAL PAVILION AND FOOD BOOTH AT THE GLOBALFEST 2018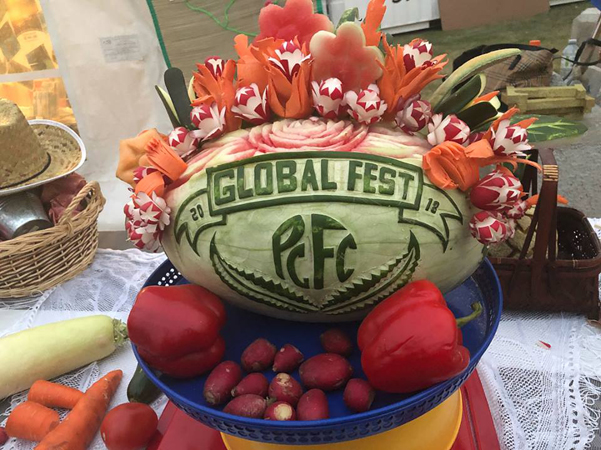 by C.K.
MABUHAY/WELCOME!!
The Republic of the Philippines, located on the southeastern rim of Asia, is also known as the "Pearl of the Orient." Historians believe this moniker was popularized by the national hero, Dr. Jose P. Rizal, who used the phrase in his poem, "Mi Ultimo Adios." Some say it is because of its rich natural resources; some say it's because of being a major producer of the Golden South Sea Pearls.  There are also a couple of vendors in the pavilion and face painting.  They also have a photo booth provided by Pink Rubies Photography and some filipiniana dresses on display from Istilo Pilipino and the display of all the beautiful touristic spot from Center Holidays of Iren Monge.  ABM College was also there with their Filipino ambassador to explain what the college is offering to students.  This pavilion was coordinated by none other than Ms. Irene Macaraeg.
It was also an honor that on the Philippine night there was a Philippine VIP booth and we were honored to have none other than our Philippine Consul General Gilberto Asuque together with his wife and his assistant, Ms. Sheila Tarrosa.  Consul General Asuque also went on stage to say a few words before the pyromusical presentation of the Philippine delegation started.
Aside from the cultural pavilion, there also the authentic Philippine food booth.  They offered the traditional pork barbecue that taste no better than any other barbecue, the pinoy red hotdog, pancit, menudo, lumpiang shanghai, and of course pinoys cannot eat without rice. Desserts were also sold especially one of the favorites, leche flan.  This food booth was in coorperation with PCFC, Barrio Fiesta, Etienne's Delights and DJ Hotdogs.  This won't be possible without the collaboration of the key people who helped put this food pavilion together namely Mama Vi of Barrio Fiesta, Chef Ricky Asuncion, Marietta Pangan of PCFC and the chefs who volunteered their time, Mich Gamboa of Etienne's Delights and all those who volunteered their time to help keep the line moving due to the popular demand of the authentic Filipino foods that were  served during the 5 nights of the Globalfest.  Congratulations everyone for a job well done!