Reunited Families Attend Reunification Workshop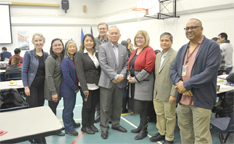 The Calgary Immigrant Women's Association (CIWA) in partnership with the Calgary Catholic School District and the Philippine Consulate General in Calgary conducted a reunification workshop on February 23, 2019 at St. John Reception Center. This whole day event aimed to provide support to Filipino families who were reunited after several years of separation. There were 20 families who attended the workshop and most of the parents came to Canada under the temporary work permit and live-in caregivers programs.
The Filipino Community Development Program (FCDP) of CIWA spearheaded the activity. The sessions were done simultaneously among the parents, youth and children which included topics such as family reunification, success in schools, parenting laws, power of education, child safety tips and making healthy snacks with Nutrition Students Teachers Exercising with Parents (NSTEP). Speakers from CIWA, CCSD, Calgary Catholic Immigration Society, The Calgary Bridge Foundation for Youth and Columbia College were invited to share their expertise in this field.
FCDP is funded by Family and Community Support Services (FCSS) which helps members of the Filipino community integrate into Canadian society. Aside from the family reunification support, the program offers settlement services, resource referrals, a legal clinic, one-on-one counselling, in-home support, youth engagement activities, employment skills enhancement and meaningful civic engagement opportunities.
Philippine Consul General, Gilberto Asuque and Deputy Consul General, Zaldy Patron gave a warm welcome and post-arrival orientation to the reunited families.
For more information about CIWA programs, please visit our website at https://www.ciwa-online.com or you can contact FCDP Coordinator, Maria Chelo Galay at 403-263-4414 ext.140 or email:  mariag@ciwa-online.com.