TNT Boys Listen Live in Edmonton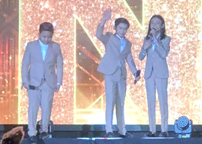 by CK
In April 27, 2019 TFC together with ABS-CBN made the Filipino community of Edmonton and other cities in Alberta witnessed the greatest performance of the top boyband in the Philippines, the TNT Boys. These boys we all individual contestant in Tawag ng Tanghalan Kids edition of the noontime show, SHOWTIME. Although they did none of them were the grandchampion, they all landed up within the top 5 winners. The members of this boybands are Keifer Sanchez, 14, Mackie Empuerto, 13, and Francis Concepcion, 12. . The group's inaugural world tour included three stops: Los Angeles, San Francisco and Edmonton.
The three boys guested in Gandang Gabi Vice and they were asked to render a song that they can sing alternately instead of having the 3 of them sing together. And they sang performed of Beyonce's song Listen became a viral hit and tthat started it all. Vice Ganda suggested to ABS CBN Management to put a group together for the boys and call them TNT Boys (TNT coming from Tawag Ng Tanghalan).
In April 2018 TNT Boys performed on the American reality show Little Big Shots, followed by performances on the UK and Australian versions of the program. The trio once again showcased their singing prowess as they performed at the President's Star Charity 2018 for Singapore President Halimah Yacob.
According to the boys It's their dream to go on a world tour and to travel to other countries, In their spare time, they are just like ordinary boys playing games and just making sure that they take good care of their voice by not eating chocolates or candies and drinking lukewarm water. They also treat one another are brothers. When they sing, they have their own part in their song. Their vocal coach is Froilan Canlas who was also one of the winners of Tawag ng Tanghalan sa Showtime.
The members' humble origins are a big part of what resonates with their audience. The boys' singing career helped their families because they did not come from rich families. Now they are able to lift your whole family up, and now it's like a success story for each of them. The three members are each supporting their families financially with the earnings from their music. The youngest member, Francis Concepcion, has nine siblings and was raised by his aunt after his parents struggled to afford taking care of him.
It was indeed an evening of great performance by the TNT BOYS; they definitely now what the word greatest performance means because that's what they proved to the audience. The boys expressed their gratitude, thanking the audience over and over again.