GLOBALFEST 2019 – A HUGE SUCCESS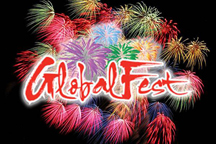 by C.K.
Every year  we just find it amazing when Globalfest presents us 5 evenings of mystical fireworks display from different countries suynchonized with musical backgrounds.  This year, I got the chance to watch 2  fireworks displays that really captured my eyes that I didnot want the evening to end.  It's such a  brilliant work of art and the designers of each fireworks display are to be commended for their works.  Pinoy Times has been a community partner of Globalfest for the past 10 years.  And for next year, 2020 Globalfest it will be more exciting because there will be a delegation from the Philippines.
The Star Metro Calgary is excited to present the People's Choice Award Winners for best Pyromusical Presentation, Ethnic Food Booth and Cultural Pavilion as voted by the patrons of GlobalFest:.
Pyromusical Presentation – Canada – Kelly Guile from Archangel Fireworks
Ethnic Food Booth – Philippine Cuisine
Cultural Pavilion – Scotland

And The Best of the Trico Homes International Fireworks Festival for 2019 is  Spain and Luis Brunchu and Miguel Perez from Pirotecnia Zaragozana! The dramatic storytelling of "Home Sweet Home," mixed with the synchronicity of pyrotechnics and music, captivated the crowd and took the audience on an adventure through fan-favourite television shows and movies.
SPAIN
SATURDAY, AUGUST 17
Title of show: Home Sweet Home
Designer(s): Luis Brunchu / Miguel Perez
Description:
There is nothing like getting home after a hard day's work and being able to relax in front of the television. Sink into your couch while movies like Kill Bill, Bohemian Rhapsody and San Andreas, or television series such as Grey's Anatomy and Cuentame welcome you home. Whether you are watching Glee or Operacion Triunfo, the characters and storylines of our favourite programs allow us to feel a sense of home regardless of where we are. So, sit back and enjoy while we display Home Sweet Home to the soundtracks of your big-screen favourites!
There is nothing like getting home after a hard day's work, turning on the television and losing yourself in a program. Whether you need a film like Kill Bill to add some excitement to your day, or a television show with both highs and lows like Grey's Anatomy or Operacion Triunfo, your big-screen favourites are always able to transport you from your living room couch to a world all their own. So, sit back, relax and allow for Home Sweet Home to transport you from Elliston Park to the worlds encapsulated in each song.
Founded in 1860, we are one of the most historic companies in the Spanish pyrotechnic landscape. It all began in a small workshop located in a rural neighbourhood of Zaragoza, run by Angel Sanz. This tradition, transmitted generation after generation, together with constant innovation, make Pirotecnia Zaragozana synonymous in the world with safe, prestigious and quality shows. With extensive experience in Canada, Pirotecnia Zaragonzana has been a supplier of the largest firework companies in Canada in for many years. Likewise, we have participated in several competitions within the Canadian territory, obtaining awards for our shows and the greatest of illusions. We are proud to participate in GlobalFest!
Musical Program:
Song Title Album/Artist
1. Battle Without Honor or Humanity Tomoyasu Hotei
2. Cuentame
3. All I Need
4. Bohemian Rhapsody
5. Vas a quedarte
6. The Scientist
7. California Dreamin'
FINALE
SATURDAY, AUGUST 24
Title of Show: Personality
Designer(s): Patrick Brault
Description:
Established in 2006 by Patrick Brault and Miguel Zamorano Caballer, Sirius Pyrotechnics was originally the Distribution and Competition dividion of Zamorano Caballer S.A. With the economic crash in Spain and the closure of the factory, Siruis had to re-invent itself. After the closure of the factory, Sirius had to reinvent itself. After the closure of the factory, Patrick Brault took ownership of the company, along with his partner Kelly Guille, and they began to wow audiences on a global level, leaving the audiences waiting for more.
Illuminating the world's skies for over 27 years, Patrick has become one of Canada's most renowned fireworks designers on the global stage. His many titles for breathtaking displays have earned him respect and envy throughout the industry. Having extensive knowledge of both the manufacturing and displays aspects of pyrotechnics, Patrick is able to create and deliver the artistically unthinkable. Patrick's global contacts and ability to communicate in many languages helps to ensure that he has success no matter where he performs.
Musical Program:
Song Title Album/Artist
1. Natural Woman
2. Don't Stop Me Now
3. Halo
4. Cringe
5. This Life
6. Lazy Eye
7. Pompeii
8. Blame It on My Youth
9. Superposition
10. Suit and Jacket
source:  www.globalfest.ca