Golden Generations Hold Computer Training Sessions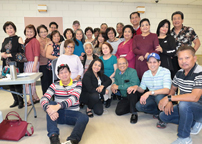 by Connie Kriaski
The Golden Generations Seniors Club of Calgary headed by Mr. Ben Balaong conducted a Computer Training Sessions at the Marlborough Park Community Center.  The 1st batch of training sessions from Septermber 26, 28 and 29, 2019 from 1-5 pm and they had 12 laptops and 12 Ipads to be used for the training and there's about 40 attendees. The 2nd Batch Computer Training was held on  Oct. 3, 4 and 6, 2019 from 1-5 pm and the Third Batch will be on October 12 and13, 2019 from 9:00 am – 5:00 pm.
The  Graduation of the computer training attendees is set for  January 11, 2020 from 4:00 pm to midnight.  The instructor for this computer training sessions is none other than one of their members, Mr. Mike Lozada.
It is indeed another way of educating the seniors to be computer literate.  Just the basic use of the laptop or the IPAD is already a big help for them to stay on top of this fast changing environment when it comes to technology.  I hope to hear that other seniors organization will also do the same to their members so that everyone will benefit from the organization they belong.  Congratulations to GGSCC and it's leaders for doing a great job!  More power all your organization!