Movie review: Silence is profoundly moving in 'Isa Pa, With Feelings'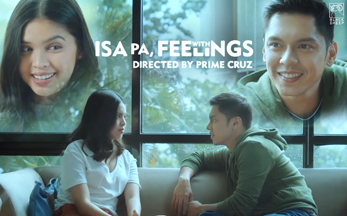 Mara Navarro took sign language lessons to be able to communicate with her niece Hailey who is deaf. When she was depressed over an unexpected career setback, her deaf sign language teacher Gali Pastrano (who just so happened to also be her next-door neighbor in their condo) became her close friend.
When Mara accepted Gali's invitation to be his partner for his dance recital, their friendship would seem to have blossomed into love. However, anxieties arise questioning if a deaf person can really have a serious long-term relationship with one with normal hearing?
This is the first time I had seen Maine Mendoza in a film since I knew her first as Yaya Dub on "Eat Bulaga." With her famously expressive face, she nailed the various dramatic situations Mara got herself into, and she was good.
However, "Isa Pa, With Feelings" was a bigger acting vehicle for her co-star Carlo Aquino than it was for her, and Mendoza fully embraced that in her supportive portrayal. Once more, Aquino proved his prodigious acting talents as Gali. He certainly rose to the enormous challenge of portraying a deaf character very convincingly, we fully empathized with his frustrations and insecurities.
The main love story in itself was very simple. Hearing girl meets and falls in love with deaf boy. Will their relationship work or not? I don't know how commonly deaf-hearing relationships occur, but one can imagine the immense strain of coping with the impaired communications.
"Isa Pa, With Feelings" presents a lot of very real difficulties encountered by both parties involved in such a special relationship, both in social and personal situations. My work exposes me regularly to deaf people, so I really appreciated the film's effort to shine more light on their condition.
This is a very brave Filipino to have one of its main protagonists Gali to be profoundly deaf. This meant that all his lines will have to be either in text via their mobile phones, or more frequently, in sign language. It taught us how to sign basic words, but there were entire scenes with no spoken dialogue at all. There were even some scenes in complete silence, without musical score. I appreciated those immersive scenes when all the sounds fade to mere beats and murmurs to simulate how the deaf Gali perceived the situation he was in.
I thought this full commitment to a portray quiet disability like deafness was pretty risky for a mainstream film like this one. When Mara was signing, she would also say what she meant. However when Gali signed, we needed to read his lines off an LCD screen or off the subtitles. Merely reading a line does not have the same effect with hearing a line delivered with the proper timing and voice inflections. This may not be easy for certain viewers used to hearing their "hugot" one-liners spoken out loud.
Because of this challenge, there had been very few films with a deaf protagonist, like Oscar-recognized "Children of a Lesser God" (1986) and the Ukrainian arthouse piece "The Tribe" (2014), and their posters were prominently displayed on Gali's wall.
Director Prime Cruz was able to make us feel how it must be to be deaf, and now we know that it definitely is not easy. It emphasized the special way the deaf perceive certain things which hearing people would perhaps take for granted, especially music (like JK Labajo's sensual hit "Buwan") and dance.
Over and above telling a simple love story, "Isa Pa, With Feelings" is eye-opening and educational about our deaf fellow men as it worked to promote understanding, compassion and respect about their misunderstood disability.
https://news.abs-cbn.com/entertainment