Sarah Geronimo says yes to Matteo Guidicelli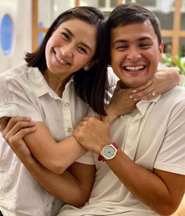 An exciting development took place in showbiz on Thursday evening after actor, triathlete and military reservist Matteo Guidicelli announced his engagement to long-time girlfriend, actress-singer Sarah Geronimo.
On Instagram, Guidicelli shared two goofy photos of them where Geronimo was seen flashing a huge diamond ring on her left finger, where engagement rings are usually worn.
While the handsome actor didn't exactly say they're engaged, he captioned their picture, "I love you my love, now and forever."
Within minutes of posting, congratulatory messages flooded from friends and fans.
Sarah Geronimo wears a sparkly diamond ring in these fun and goofy posts with longtime boyfriend Matteo Guidicelli, hinting their engagement.
Timeline
Guidicelli, 29 and Geronimo, 31, have tried to keep their relationship private since getting toge­ther in 2013. Confirming they were an item only a year later, they would often decline to talk about their relationship in interviews but were visible in supporting each other's milestones.
Geronimo for example was present at the actor's graduation as 2nd lieutenant at the Philippine Army in May, while Guidicelli posted a very touching Instagram message for the singer-actress on her 31st birthday in July.
Looking back on an interview with StarStudio Magazine in September 2016, Guidicelli revealed that he always had a huge crush on Geronimo, and that his ex-girlfriend, Maja Salvador, even knew about it when they were still together.
After he and Salvador broke up in 2012, Guidicelli finally found the courage to get to know Geronimo in early 2013.
"I called Billy and I said, 'Introduce me to Sarah, introduce me to her'," he shared, referring to his conversation with his good friend, Billy Crawford, who had a show with Geronimo in Cebu at that time.
Guidicelli also went out of his way to see Geronimo's show in Batangas, where he lined up with her fans for a meet and greet and photo opportunity. A year after they got together, he gave a copy of their picture to Geromino.
They officially became a couple in September 2013 but chose to keep their relationship low key. Speculations nevertheless began when they were spotted together in several gatherings. By June 2014, Guidicelli publicly admitted he had been dating Geronimo and declared he is ready to seek her parents' approval.
"Dapat lang (magpaalam)… She is very blessed and deserves it all. She deserves to be happy and she deserves to do what she wants to do," he told news.abs-cbn.com.
Asked then whether he worried about getting along with her parents who are known to be very protective of Geronimo, he replied, "Hindi naman. As long as we respect the parents, that's the most important thing. And to not do anything outside, not to do anything rude."
A month later on June 2014, it was Geronimo's turn to confirm she is in a relationship with Guidicelli.
"Sige sasabihin ko na po, boyfriend ko na po si Matteo," Geronimo said in an interview with "Aquino & Abunda Tonight."
In his latest interview on the same talk show Guidicelli revealed that he and Geronimo "sometimes" talked about marriage.
"[We'd talk about it] here and there…Siyempre, we've been together for a few years now." When pressed about their plans, he joked, "Tito Boy, talk to Sarah."
Besides the now-viral photos released Thursday, the couple has yet to officially announce their engagement as well as their wedding plans.
Source: manilatimes.net