ERWINISM: Light of the Season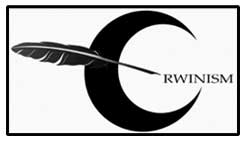 By Erwin D. Maramat
If an asteroid the size of Australia were to hit the earth, David wouldn't even flinch. He will be at his desk amd in his computer chair while his eyes are permanently glued on the screen leering at strangers on his Facebook account and sending them friend requests.
I first met him while his nailed onto his chair three years ago. Our boss, Mr. Hughes, introduced him and in an attempt to be genial he extended his left hand to me while staring at me blankly.
"This is Ed. Our new marketing coordinator," said Mr. Hughes, "Ed, this is David."
"Pleased to have your acquaintance David."
"Sure. Earl is it? Tony could I have some more envelopes?"
"Absolutely David, I'll get you some on my way back," Mr. Hughes grinned at me as he gently nudged me with his elbow. For some reason David was mentally absent in that exchange. His pupils whispered of the abyss where he is presently confined.
That's just that. For the longest time everybody has nothing pleasant to say about David save for Mr. Hughes who seems oddly fond of him. For what reason our boss is that way with David remains a mystery.
David pretty much kept things to himself. Impressively, he got to work before everyone else did and stayed when everyone has clocked out. Light reflects well on the top of his head as there is barely anything for few strands of hair to hold on to. The clothes he wore were habitually unkempt and strangely ornated with dust and stain. He may be invisible, but he makes his presence felt as he reeks of pizza. In fact, the staff conjectured that he wore pepperoni as cologne to come as virile for the sex doll he kept in his closet at home. Once in a while, you could hear 'Spice Girl's Viva Forever leaking out of the tiny speakers of his computer and his face would light up as if he were a teenager finding the joys of getting wasted on beer for the first time.
"Martha loves this," he exclaimed.
Two things: I didn't know who Martha was, and I 'm not interested to know who she was. Therefore, I didn't ask who Martha was. As far as everybody knows, David is single. Martha must be his imaginary girlfriend who is nostalgic about the '90's.
Our receptionist once rudely remarked that he is a waste of space and getting good dough for it. Everybody roared in laughter at David's expense, and I myself am guilty for indulging in such madness.
He was a man of few words. When he spoke it was always terse, as if he abhors the pleonasm of a decent human conversation or discourse. The most one will get from him is lackluster 'hello' which he is indisposed to share on occasions.
The one other thing for which he is notable, is being the first to forage for food during our company potluck dinner. He is quite the gourmand and pigs out as though, well, as though an asteroid the size of Australia is about to hit the earth. Christmas is when he does this best. Mr. Hughes regales everyone with a sumptuous repast even though the company is not faring well.
Speaking of Mr. Tony Hughes, he is always on top of things. Our office is well-managed by the maintenance personnel we don't often see him or her or them even during Christmas gatherings, so we can thank them for doing such a great job on our office's upkeep.
As I am immersed in these thoughts, David knocked an unattended cup of ginger ale off the table and instead of the usual panic. He smirked, shrugged his shoulder and said, "I guess housekeeping will be keeping busy." As he walked away, I just rolled my eyes and shook my head and picked up the cup in disbelief. Later that evening, David bade everyone goodnight but not without asking Mr. Hughes permission if he could bring the big bowl of corn soup that nobody touched that evening never mind the mess he left on the floor.
"Of course, David! By all means."
I thought of how compassionate Mr. Hughes was and what a prick David was.
When we got back in January, I noticed that the snow wasn't shoveled off our office sidewalk and the doors were still locked. Minutes later the boss arrived, and I asked him if we had a shovel. He told me where they were and thanked me for my initiative to clean. After cleaning up, I went in and found my boss sweeping the floor.
"Maintenance is still on vacation, eh?' I asked.
"Ah yes, David is still sick,'' he said chuckling.
"Oh, the maintenance is named David too?'
"No, no. It's our David who does this."
He could see the puzzled look on my face, so he pulled two chairs and invited me to sit down with him.
"You see Ed, David comes early and leaves late to clean up the place because I can't afford to acquire cleaning services to accommodate our overhead expenses. I keep refusing, but he insisted on volunteering," Mr. Hughes explained, "he said that it keeps his mind occupied."
"How come Tony?"
"This is personal so I am counting that you can keep this to yourself. Ever since his wife Martha died of cancer five years ago, he has been keeping busy. After work, he delivers pizza at night so he can save up so he can afford to buy and bring gifts to cancer patients during Christmas season. He even takes care of the food during our company's Christmas party. He throws one for too the homeless people at nearby shelter after our dinner every year."
A flush kept across my cheek and my body froze in embarrassment. I could have sworn my conscience shrivelled into a pulp after hearing these words. We have always tainted David with a dark light.
Clearing my throat, I mustered the courage to ask him, "why does he do the things he does?"
"Simple. It brings him joy to see others happy. He has no relatives here so he just shares his life whenever he can in his reticent ways. To him that's what Christmas is about. Martha and he have always been generous. He once told me that he can feel Martha in everything he does."
Mr. Hughes smiled at me and said,
"I know that you and the others think David to be an oddball, but he isn't. He is a great person and believe or not he was the one who got you hired because he thought that your resume reflected your lack of experience, so he said to give you one. So here we are."
"That's very nice of him Tony," said I. It's a shame how we have treated David all these years. We have let our insipid judgments inspire our perception of him.
That day was a summer solstice in winter. The minutes on the clock's face dragged on for eternity. I never looked at everyone in the same light again and while humans are feverish over unrequited love never in a second did David break character to profess his romance with all the virtuous that we as humans often ignore.
The next day, as I happened to be passing by David who was lounged in his chair while twiddling his thumb and watching a cat video on YouTube, I caught a whiff of his usual scent of pizza. Funny how our perspective takes on a different meaning. The scent of pizza now for me alludes to love and generosity. I stood by his desk and asked him how his new year was, he took a glimpse of my face and told me how it went. Just then my phone rang with ringtone 'Viva Forever' by the 'Spice Girls.' He smiled at me and said,
"What a lovely ringtone Ed. That's Martha's favorite song."
"I'm glad you liked it David. How about we grab a cup of coffee after work?"
"Only you're buying," joked David.
"There's nothing more than I would love other than pleasure of doing so," I happily sad.