Foreign representatives now exempt from travel restrictions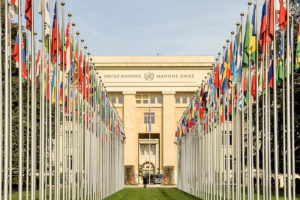 Foreign officials and their families can now come to Canada.
Canada's border remains closed but foreign diplomats, consular officers, officials and their immediate family members have been added to the list of exempt travellers.
The new exemption applies to foreign nationals who have diplomatic acceptance on their passports, a consular acceptance, or an official acceptance issued by the Chief of Protocol for Global Affairs Canada. They must be an accredited diplomat, consular officer, representative or official of a foreign country, of the United Nations or any of its agencies or of any international organization of which Canada is a member.
Foreign representatives can now come to Canada to get accredited by Global Affairs Canada and resume their postings. All are required to get a temporary resident visa (TRV) before they travel to Canada under the current restrictions.
TRVs must be coded "D-1" or "O-1" to signal to border officers that the passport holder is entitled to diplomatic, consular, or official privileges.
The news comes after Canada reopened TRVs and electronic travel authorizations (eTAs) on July 1.
Canada's travel restrictions currently do not apply to family members who are staying for more than 15 days, skilled workers, and students who were approved before March 18 and must study in Canada. Travellers must also demonstrate to the Canadian Border Services Agency (CBSA) that they are travelling for an essential reason in order to be allowed into Canada.
Canada has broadened the definition of "immediate family" during the coronavirus pandemic. In addition to spouses, common-law partners, dependent children and grandchildren, immediate family includes:
parents or step-parents
a parent's or step-parent's spouse or common-law partner
a guardian or tutor
People who enter Canada from abroad must still quarantine themselves unless they fall under one of the following exemptions:
airline crews;
people who come to Canada to assist the coronavirus response;
Canadian Forces;
people providing essential services according to the Chief Public Health Officer;
people coming to Canada in the national interest as determined by the Minister of Foreign Affairs, the Minister of Citizenship and Immigration, or the Minister of Public Safety and Emergency Preparedness;
emergency services workers;
people who provide medical care or deliver medical equipment;
people coming to Canada to receive medical services unrelated to COVID-19;
licenced healthcare professionals and students who are permitted to work in a health field, as long as they are not caring for vulnerable people within a 14-day period;
people entering Canada on a fishing vessel;
people coming to Canada within the boundaries of a trans-border community; or
people who cross the border regularly for work.
Canada's border is still closed to foreign travellers until July 31. The Canada-U.S. border is now closed until August 21.
Source: www.cicnews.com