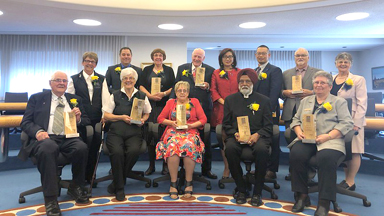 For more than 20 years, the Minister's Seniors Service Awards have recognized volunteers and groups that dedicate their time and talents to make life better for Alberta seniors.
The recipients of the Alice Modin award will also be recognized. Thirty years ago, Modin campaigned to launch a seniors' day in Strathcona County, paving the way for [...]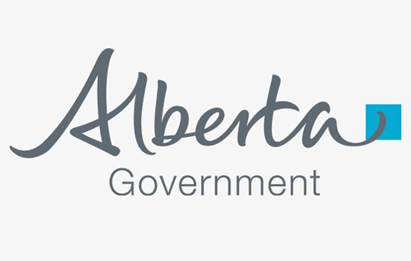 Consul General Patron discussed with Premier Kenney the Filipino diaspora in Alberta, labor cooperation, Philippine
investments in the province, trade relations, ongoing education cooperation between the Philippines and Alberta, and the
potential for energy cooperation between the two sides.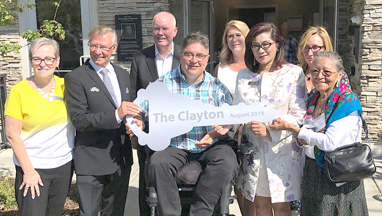 The governments of Alberta and Canada are helping homeless people in Calgary to get back on their feet with the opening of the Clayton apartment.
About 30 single adults will soon begin moving into the Clayton, a safe affordable housing project in the west Calgary neighbourhood of Bowness. Designed to meet the needs of individuals who [...]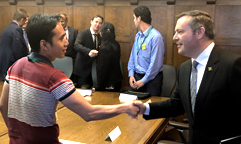 Bill 11, the Fair Registration Practices Act, will help newcomers get their credentials recognized, so they can quickly get to work in their fields to help grow the economy and create jobs.
Premier Kenney and Minister Copping meet with newcomers and stakeholders to discuss their experiences with foreign credential recognition.
The act is a key part of [...]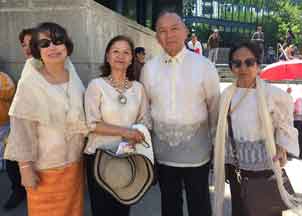 by: Chona Decena
The annual Philippine Independence Day celebration took place on June 12, 2019. This year's theme is "Unity & Harmony-Key Factors To Radical Changes". There was a flag raising held at the City Hall at noon joined by different members from the community association.  This was organized by CAFFA thru the leadership of Ms. [...]
Alberta's 18th Premier, Jason Kenney, and his cabinet were sworn in at Government House in Edmonton on April 30.
"Albertans gave our new government a huge democratic mandate for bold change that gets our economy back to work and stands up for this province. This is a strong team that is ready to lead, and to [...]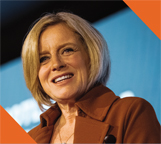 Albertans face a stark choice about the future of health care in Alberta.
Rachel Notley believes in strong, stable public health care. Jason Kenney has spent decades trying to bring private health care to Alberta.
Over the past four years, Notley put health on a stable footing. Despite tumbling global oil prices, closing hospital beds was not [...]
A Filipino-Canadian team bested five other international competitors to win the "judges' pick" award at the First International Snow-Sculpting Competition in Alberta, Canada.
Composed of couples Ross and Marites Baisas. and Antonio and Maria Elena Baisas, Team Baisas also won the People's Choice Awards.
They won the contest for their snow sculpture called "Tangle", depicting two moose [...]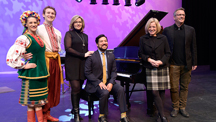 Month of the Artist: Minister Miranda
Alberta artists such as dancers and musicians are an important part of our culture, and they along with the rest of the arts community are being honoured this month.
"Art and artists are a vital part of our culture. They make our province a great place to live, visit and raise [...]
The Government of Alberta is updating employment rules for youth aged 12 and under.
The new standards only apply when there is an employment relationship, such as jobs where employers make mandatory deductions or provide benefits such as vacation pay. They do not apply to volunteer activities or casual work such as babysitting, lawn-mowing, snow-shovelling or farm and ranch work.
The changes mean [...]