An appeal to Filipinos in Calgary:
I am an optimist to suppose that somehow, we could pull ourselves together. I believe that with our sense of pride and value, we can ably push our community onward to a right direction. We have excellent potential and through vigour and proper arrangement, a turning point is [...]
IMMIGRATION NEWS
May 3, 2017—Ottawa, ON – The Government of Canada has published regulatory changes to increase the maximum age of a dependent child which will allow more families to stay together. This change showcases the Government's commitment to family reunification.
The new age limit of 'under 22' will come into effect this fall, on October 24, [...]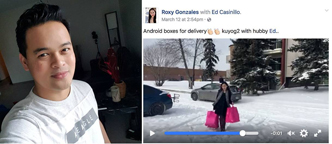 EDMONTON, CANADA, March 30, 2017 - ABS-CBN filed today a Statement of Claim in Canadian Federal Court against Ed Casinillo andRoxy Gonzales for damages of over $5 million for copyright infringement, trademark infringement and enabling and inducing copyright infringement of ABS-CBN's copyrighted works.
The lawsuit alleges that Casinillo and Gonzales sold set-top boxes that were manually programmed by Casinillo to enable buyers to access hundreds [...]
By the end of this year, residents of apartments, condos, townhouses and other multi-family complexes will be able to keep their food and yard waste out of the landfill.
Starting Nov. 1, 2017, the Waste & Recycling Bylaw will require all multi-family complexes to separate food and yard waste from the garbage, for composting or another [...]
BY: Tigs Tidalgo
The Philippines Independence Day Celebration of Calagry has been an  annual event of Filipinos for about five decades. It was celebrated modestly by the Filipino pioneers and was enhanced when the Filipino Canadian Society of Southern Alberta was organized.
Years went by and many Filipino associations came to being. The Filipino Canadian [...]
Distracted driving is rapidly becoming one of the most dangerous driving behaviours.
Research indicates that between 20 and 30 per cent of all collisions are due to distracted driving and distracted drivers are three times more likely to be involved in a collision than attentive ones.
"We all play a role in reducing the number of [...]
January 3, 2017 – Ottawa, ON –Immigration, Refugees and Citizenship Canada (IRCC) hosted a special citizenship ceremony today at the Supreme Court of Canada with 26 individuals invited to kick off Canada 150 celebrations and commemorate the 70thanniversary of the Canadian Citizenship Act.
The event resembled the first Canadian citizenship ceremony held 70 years ago, on January [...]
CELEBRATIONG THE 2016 CHRISTMAS DINNER & DANCE AND INDUCTION OF OFFICERS